Heatercraft Products LLC.
Polaris General Vented Glass Windshield
Regular price
$600.00 USD
Regular price
Sale price
$600.00 USD
Unit price
per
Sale
Sold out
Inner Demon Motorsports Polaris General vented glass windshield.   After much research and testing we have crafted our own "Premium" full glass windshield for the 2018+ Polaris General. Our design provides more viewable area than any other glass windshield on the market.  The sealable left and right vents help to keep positive air pressure inside the cab helping to reduce dust from being drawn into the cab.  
FEATURES:
Laser Cut Aluminum Frame with Black Powder coated Finish
¼" DOT Laminated Safety Glass
Fixed Vents w/ Gray Powder coated Vent Frames
Gasketed rails for tight fit to the roll cage
Includes hole for a wiper (wiper not included)
Simple Installation
Includes Heavy Duty Mounting Hardware
Fits: 2018+  Polaris General Models (2/4 seat)
Installation Tips: Polaris General 2018-2023
Tools #10mm socket or wrench
1. Place the windshield on the frame and rest it on the lower dash mounts, so there is no visible gap between the gasket and the dash. 
2. Hand tighten the brackets onto the windshield frame first by threading on a few turns- then snap the bracket around the ProFit cage-
DO NOT TIGHTEN
.
3. Install all four brackets using the same process and tighten by threading the bolt so there is 1/8" (0.125") of thread protruding from the bracket nut.
Do not over tighten.
NOTE- Polaris ProFit cages vary on width at the bottom of the windshield opening depending on model year, so you might have to loosen the two (each side) lower A-Pillar mounts and allign or trim the lower gasket so the windshield rests inside the cage.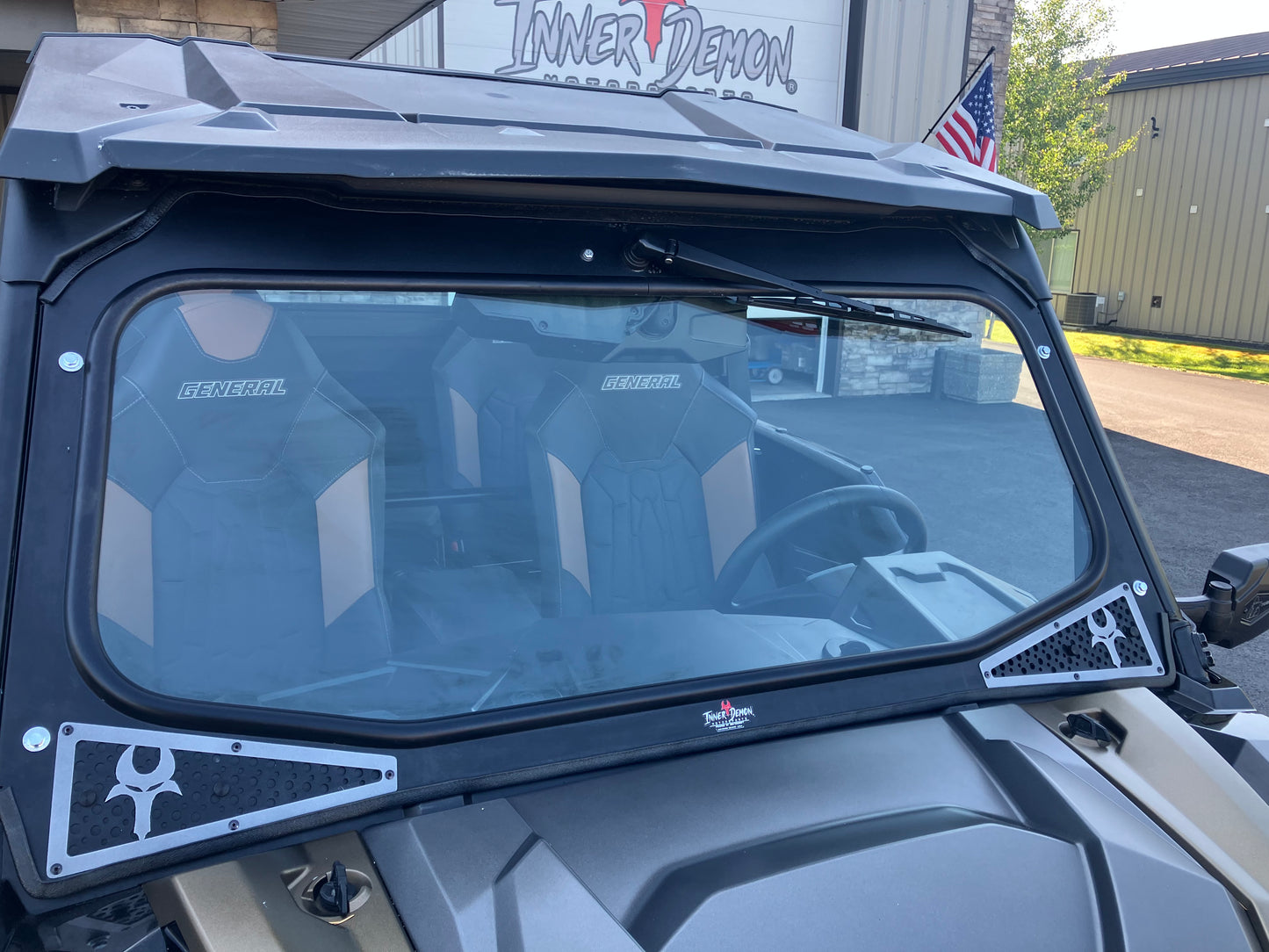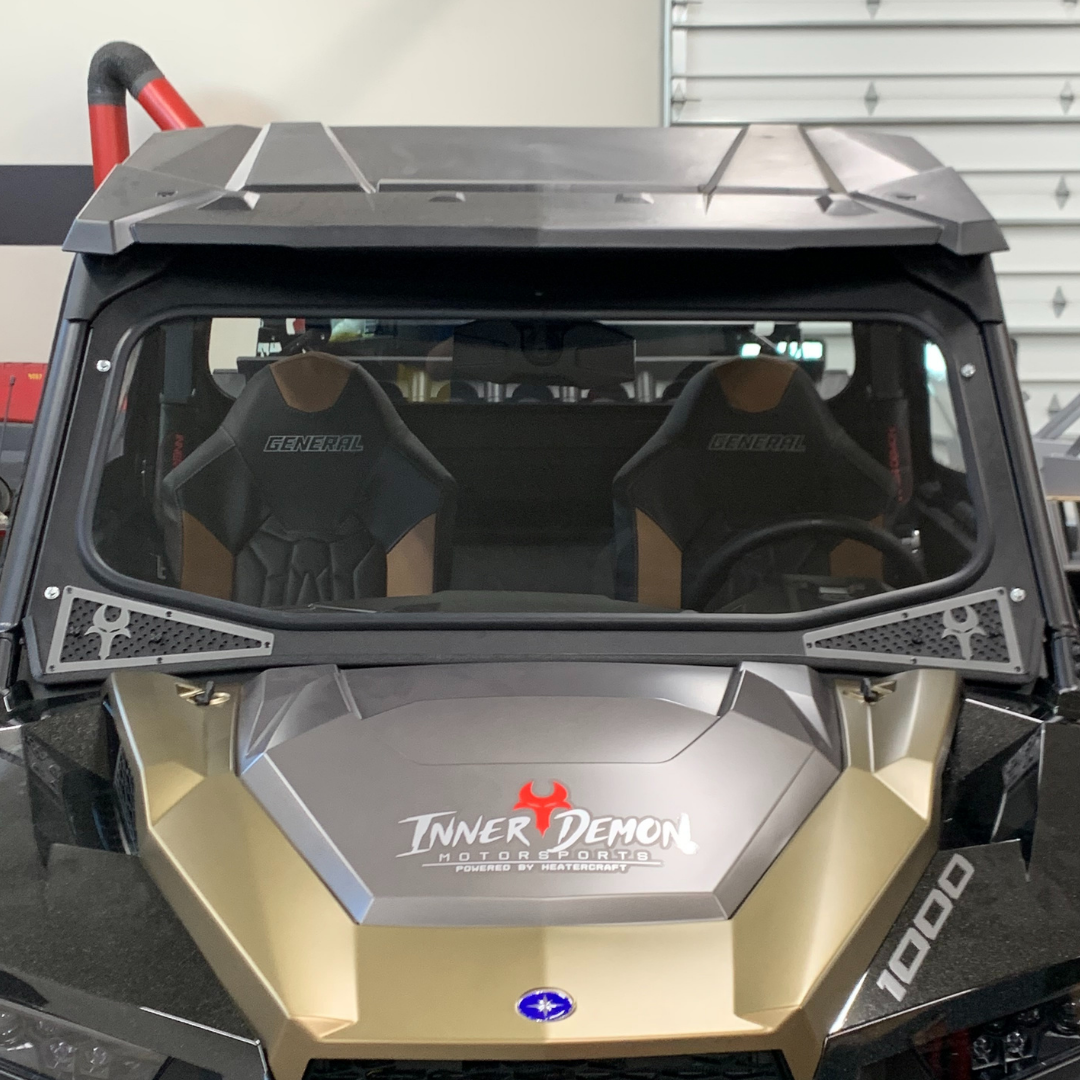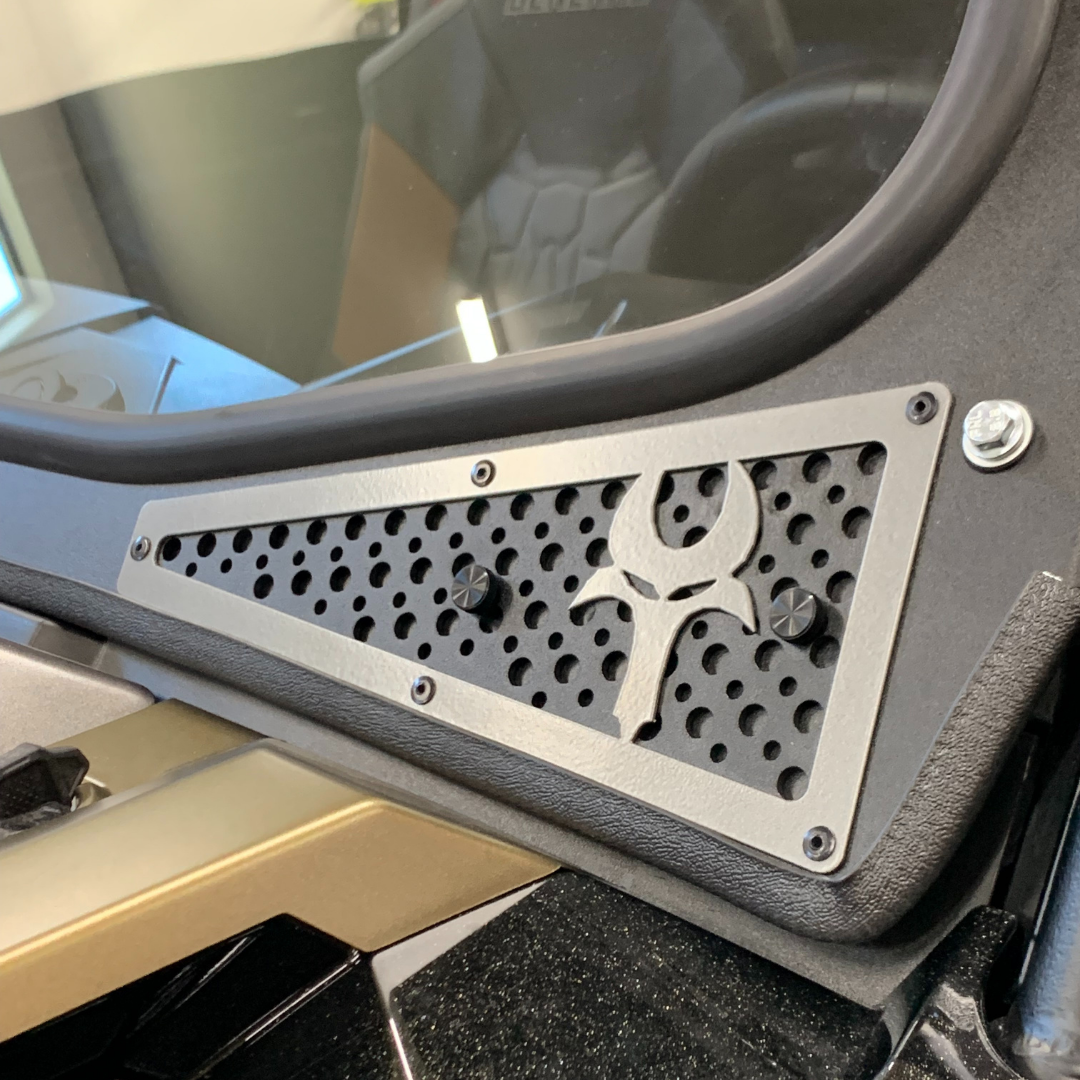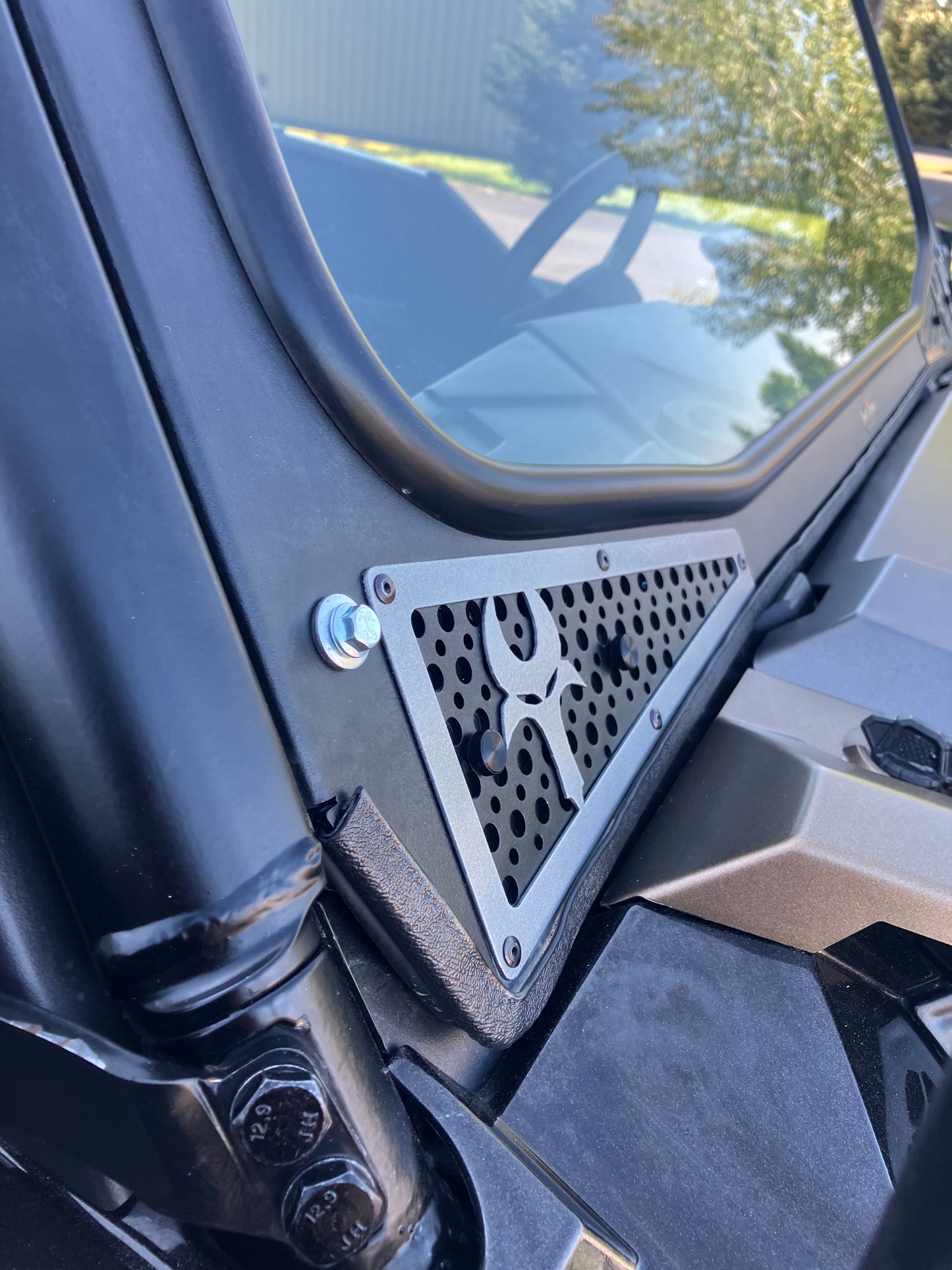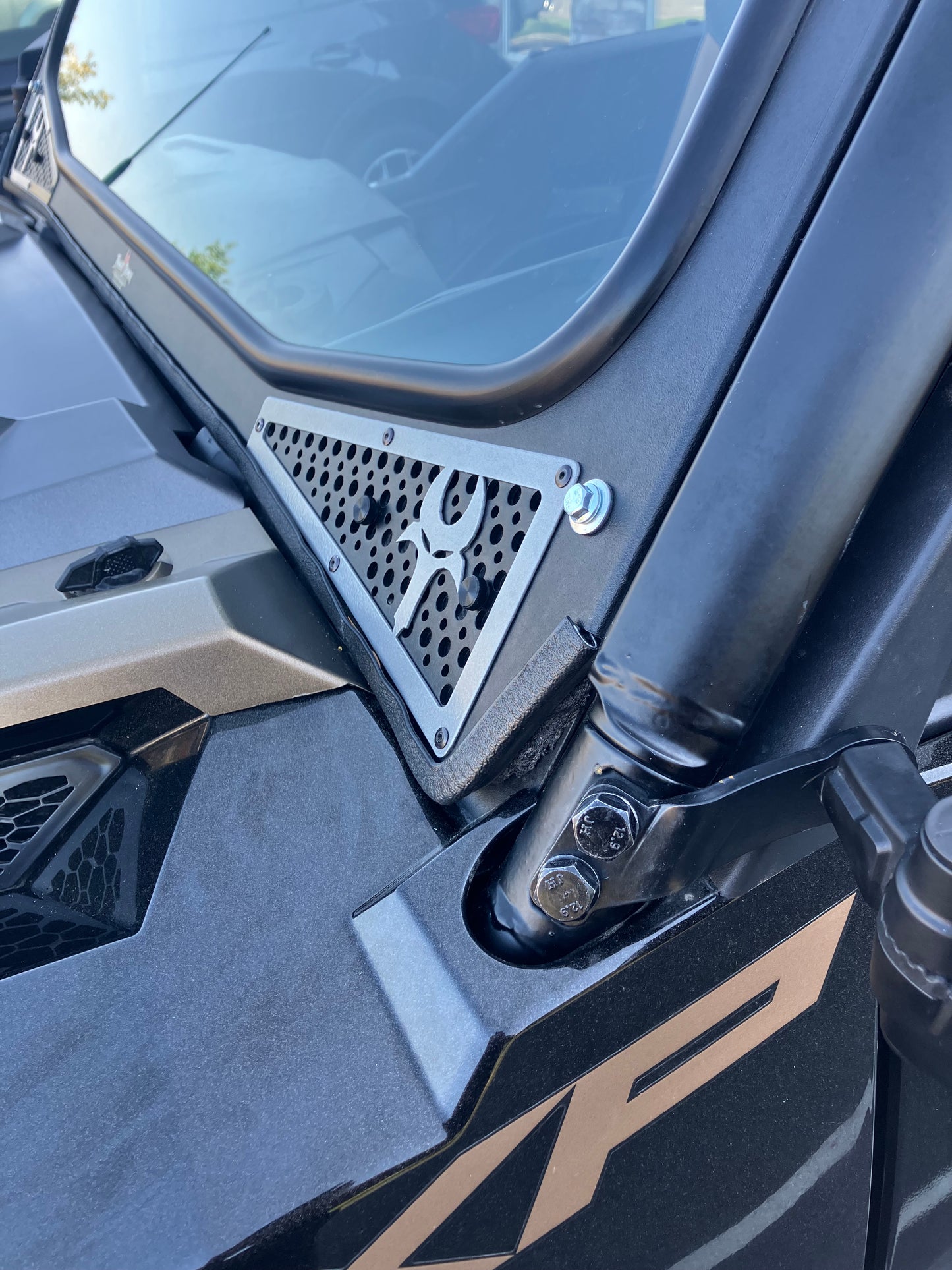 Great product and service
I recently purchased a glass windshield and glass back window for my Polaris General, super fast and easy install! They fit perfectly and look amazing! The service and communication was also top notch!
General Windshields
Awesome front and back windshields for our General, thick glass, sturdy custom frame, great product and company, MADE IN USA !
Excellent fit and finish.
Had them install front and back glass in my General. The fit, finish and mounting system is above expected. The corner vents in the front glass is a game changer. Great product and people.
Great place
These guys did a great job with my windshield. I will be using them again. A+ company